Projects
Multiobjective optimization for transparent tunnel design
The goal of the TOPP (Transparent design of optimal underground connections for smart cities using artificial intelligence technologies) project is to develop an advanced service for designing tunnels in urban environments. The service will facilitate the collaboration of all stakeholders by digitizing the tunnel design process and ensure transparency of final solution selection by providing a common user interface. Within TOPP, our role as subcontractors is to provide support for solving the tunnel design optimization problem given a number of constraints. We are responsible for implementing optimization algorithms that offer a set of best trade-off solutions according to various objectives, such as costs, technical characteristics and environmental impacts. The TOPP project is funded by the Republic of Slovenia and the European Union from the European Regional Development Fund and the XLAB and Elea iC companies.




STRAW: Disentangling the sources and context of day-to-day STRess At Work
Over the past decades, substantial attention has been paid to research focusing on chronic exposure to psychosocial stressors in occupational settings and its adverse impact on chronic disease outcomes. The influence on mental and cardiovascular health in particular has been tested and confirmed by frameworks leading in stress research, such as the Job-Demand-Control-Support model and the Effort-Reward-Imbalance model.
Our project adds new approaches to stress research by including several novel aspects; 1) we focus on day-to-day stress and not on chronic stress, 2) we will detect stress in real-word settings i.e. at work and not in lab studies in which participants get exposed to artificially created stress situations, and 3) we measure work environment risk factors (i.e. stressors), and self-perceived stress outcomes (i.e. consequences of stress) repeatedly i.e. more than twice, as compared to traditional longitudinal/follow-up studies. Additionally, physiological responses to stress and smartphone sensor data will be measured continuously.
Our research question can be summarized as follows. How are relationships between 1) work environment risk factors (i.e. stressors), 2) self-perceived stress outcomes (i.e. consequences of stress) experienced in occupational settings, 3) physiological stress parameters, and 4) context as inferred from smartphone sensor data in office-based workers – employed in academic settings – best modeled?
Webpage: https://strawproject.eu
CrowdHEALTH (Horizon2020 project)
M. Luštrek, A. Gradišek
The aim of the project is to create Holistic Health Records (HHR) which are structured health records that include several types of patient's medical and other health-related data, including lifestyle data and data collected by medical devices or sensors. These records will allow us to develop innovative data-driven analytical tools for supporting policy makers develop healthcare policies.
Slovenian partners (JSI, together with Faculty of Sports and National Institute of Public Health) will focus on the SloFIT data, which encompasses the information about physical fitness of elementary and high school students.
Link: http://crowdhealth.eu/
WellCo (Horizon2020 project)
M. Luštrek, N. Reščič, M. Smerkol
Aim of the project is to provide a novel ICT-based platform for Well-being and health virtual coach for behavior change by means of adequate and personalized intervention techniques that drive people to successful behaviour changeactions driving to a healthier lifestyle. The platform covers the three essential conditions that control the performance of any specified volitional behaviour: capability and opportunity, through the continuous monitoring of users' status and life plan, and motivation through an affective-aware virtual coach and multi-disciplinary professionals that stimulate and guide the user in the behaviour change process.
The Ambient Intelligence Group will lead the tasks of Nutrition monitoring, Affective computing (speech emotion analysis) and Dynamic user modelling. We will also contribute in some other tehnical tasks.
Link: http://wellco-project.eu/
Incorporating real-world problems into the benchmarking of multiobjective optimizers
COCO (Comparing Continuous Optimizers) is a state-of-the-art open-source platform for benchmarking optimization algorithms on a black-box setting. However, the test functions from COCO, like other available benchmark suites in multiobjective optimization, are at their core still synthetic and do not incorporate some important properties of real-world problems, such as mixed variables, constraints, expensive evaluations and asynchronous evaluations of objectives. Since only a few real-world multiobjective optimization problems are freely available for research purposes, there is an urgent need to collect real-world problems, models of real-world problems and more realistic synthetic benchmark problems into an open benchmark suite that could be used by any researcher in multiobjective optimization.
The idea of this project is to extend the COCO platform by incorporating real-world problems and their properties in order to bridge the gap between research and application in multiobjective optimization. More specifically, the project will:
– extend COCO's problem formulation and its fixed-target any-time performance assessment methodology to accommodate specificities of real-world problems,
– provide a new multiobjective benchmark suite consisting of real-world problems, models of real-world problems and synthetic problems containing features of real-world problems, and
– design an algorithm capable of solving problems from the new real-world benchmark suite and make its results available for future comparisons.
eHeritage – Expanding the Research and Innovation Capacity in Cultural Heritage Virtual Reality Applications
M. Gams, A. Tavčar, d. Kužnar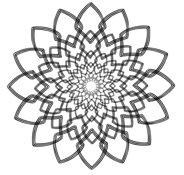 The preservation of a nation's cultural heritage is an imperative effort that each generation must uphold. With the advancements in the field of virtual reality, intelligent systems, and AI methods, we can now ascend to modern cultural heritage preservation techniques. Using augmented and virtual reality, 3D immersive graphics, intelligent GUIs people can now restore, reproduce, and experience the sight of historical sites in new more interactive and informative ways. eHeritage is a Horizon 2020 Twinning project, where the Department of Intelligent Systems and the TECIP Institute PERCRO Laboratory provide support to increase the capacity, quality, and extent of the research and innovation capability of the Virtual Reality and Robotics Department (VRRD), University of Brasov.
The specific challenges of the eHeritage project are:
– Achieving scientific excellence in a specific research area. Combining the research experience and knowledge of all partners, each institution will broaden their research area and enhance its R&I capacity.
– Raising staff's research profile by supporting their training and transfer of know-how in the designated scientific area.
– Effectively exploiting and disseminating knowledge. Partners will follow a defined exploitation and dissemination plan, aimed to present the knowledge and technology insights gained during the project, targeting publications in high-profile journals, conferences, and future R&D project proposals.
SYNERGY – Synergy for Smart Multi-Objective Optimization

B. Filipič, T. Tušar, E. Dovgan, J. Zupančič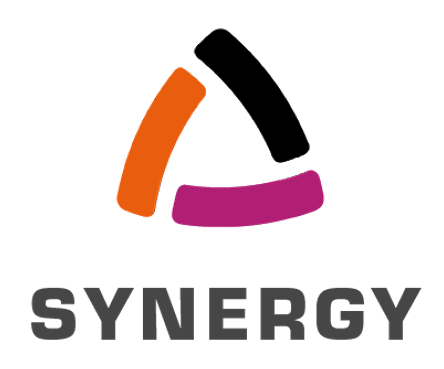 Demanding real-world optimization problems with multiple objectives can be solved more efficiently if parallelization is used to execute a number of simulations simultaneously and if the the time-consuming simulations are partly replaced by accurate surrogate models. In this twinning project, JSI's Computer Systems and Intelligent Systems departments aim to strengthen their research and innovation potential in parallelization and surrogate modelling and to explore the potential of combining the two techniques in smart multi-objective optimization in collaboration with the University of Lille and Cologne University of Applied Sciences.
The objectives of the SYNERGY project are to:
– Unleash the research and innovation potential of JSI in the area of multi-objective optimization by supporting training in parallelization and surrogate modelling and aiding organization of workshops that will foster discovery of new ways of combining parallelization within surrogate modelling;
– Raise the research profile of JSI's staff and broaden its recognition by increased networking (within the consortium as well as externally) that will result in knowledge transfer, joint publications on the topic of efficient multi-objective optimization in renowned conferences and journals with high impact factors as well as joint future research projects;
– Increase the overall research and innovation potential of Slovenia by disseminating the acquired knowledge on parallelization and surrogate modelling to other Slovenian research organizations through dedicated workshops and by applying this knowledge in future applied projects that will enable the Slovenian enterprises to efficiently tackle their time-consuming optimization problems.
HeartMan
M. Luštrek, B. Cvetković, R. Blatnik, M. Freser


Congestive heart failure is the most frequent cause of hospitalization in people aged over 65. Its management involves medications, monitoring of fluid intake and weight, exercise and lifestyle modifications, which most patients find very difficult. The HeartMan project will help them by developing an mHealth solution using state-of-the-art wearables. Its core will be a decision support system (DSS) that will provide personalised advice. The DSS will partially base its advice on evidence-based predictive models. One of these models has been developed in our previous project Chiron, and can predict how a patient will feel based on telemonitoring data. Another key feature of the DSS will be the delivery of the advice through a cognitive behavioural therapy based on cognitive dissonance. This is a proven approach that exploits the dissonance between healthy attitudes and unhealthy behaviours to improve the behaviours. It will be augmented by mindfulness exercises, which are expected to make the patients more receptive to the HeartMan's advice. In developing the HeartMan system, a human-centred approach will be used. The resulting system will be validated in two trials, which will test its medical effectiveness and usability.
Our department had the leading role in conceiving the project and is now coordinating it. We are also in charge of developing the DSS, and we will develop some of the intelligent methods for the interpretation of sensor data from the wearables.
Metis – System for early detection of learning difficulties
link
D. Kužnar, M. Gams
In Metis project we are developing a new system to upgrade an existing educational process that will radically improve the early detection of pupils learning difficulties. Metis uses artificial intelligence and machine learning algorithms based on indicators of educational success to identify pupils with an increased risk of developing learning difficulties, which are then referred to a education professional , which will on the basis of individual consultations with pupil construct an action plan with appropriate measures to improve the pupil's success. The action plan program can be followed with smart phone application, which will also serves as an interface for transmitting reminders, praise progress and achievements of the objectives of the action plan. The system will be deployed at three institutions within the project, with aim to introduce it to any interested primary, secondary or tertiary school.


e-Gibalec – Mobile application to monitor and promote exercise in schoolchildren for more effective physical education
link
M. Luštrek, B. Cvetković, V. Janko
The goal of physical education is to develop motor skills and to cultivate the habit of being physically active during leisure time throughout life. However, physical abilities of schoolchildren have worsened significantly during the past 20 years. In the interest of public health and wellbeing, this trend should be reversed. The e-Gibalec project is developing a mobile application that will use smartphone sensors and intelligent computer methods to monitor the movement of children. Gamification techniques will then be used to encourage them to be physically more active. The application will also involve parents and physical-education teachers. The teachers will have access to the data collected by the application and will be able to use it for more effective physical education. The application will be tested in multiple primary schools. The long-term goal is to introduce it to all interested primary and secondary schools.


IN LIFE – INdependent LIving support Functions for the Elderly-inLIFE
link
link [SLO]
M. Gams, H. Gjoreski, J. Bizjak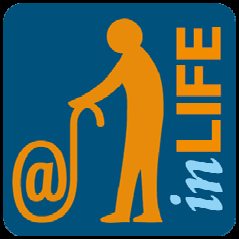 IN LIFE is a 36-month EU-funded project, bringing together leading experts of design and urban integration, transport operation and business, with local and regional authorities and end-users organizations, which represent the economic, demographic and territorial diversity of Europe.
The number of elderly living with cognitive impairment is growing rapidly due to increasing life expectancy. The percentage of those who live alone depends upon the condition (i.e. roughly 30% of those diagnosed with dementia) but the majority would like to live in their own home or with family, provided that it is safe, comfortable, and cost effective. IN LIFE aims to prolong and support independent living for elderly with cognitive impairments, through interoperable, open, personalised and seamless ICT services that support home activities, communication, health maintenance, travel, mobility and socialization, with novel, scalable and viable business models, based on feedback from large-scale, multi-country pilots. Building on existing knowledge and tested AAL technology/services IN LIFE will offer 19 different services, which will be further optimised and adapted to the particular needs and wants of various elderly groups, including mild cognitive impairment (MCI), early dementia and cognitive impairment with co morbid conditions, plus formal and informal caregivers. These interoperable services will be integrated into an open, cloud- based, reference architecture to be tested in 6 Europe-wide pilots in Greece, Netherlands, Slovenia, Spain, Sweden, and UK, with over 1200 elderly with cognitive impairments, 600 formal and informal caregivers, and 60 other stakeholders. Attention will be paid to issues concerning multilingual and multicultural environments. The project will establish and extensively test new business models for a new taxonomy of elderly with cognitive impairments, encompassing those that are clustered as "dependent", "at risk", "assisted" or "active" and formulating and accessing new business scenarios, such as the "user-centric", "service provider-centric" and "data exploitation-centric" ones.
Fit4Work
link
M. Luštrek, R. Piltaver, B. Cvetković, M. Gjoreski
The Fit4Work project aims at delivering an innovative system capable of detecting, monitoring and countering physical and psychological stress related to occupation of older adults. The project will extend off-the-shelf technologies (3D motion sensing, wearable wellness sensors, ambient sensors, and mobile devices) with specialized components able to analyse physical and mental fitness in order to provide personalized recommendations and exercises. The resulting product will be a coupling of unobtrusive devices and services that make it possible to continuously monitor self at work and manage own fitness thanks to motivating training scheme. The goal is to increase users' quality of lives and health-related fitness.
JSI will develop algorithms based on machine learning and expert rules that will analyse and interpret the sensor data about the user's physical and mental fitness: the type and amount of physical activity and the level of stress will be inferred and suitability of workplace ambient conditions will be evaluated. In addition, a decision support system combining results of the data analysis with user's health record and expert knowledge (ontological knowledge base) will be developed in order to recommend the type and time of exercises and appropriate actions such as: setting proper workplace conditions (e.g., light level, chair and computer screen placement) and taking additional measurements (e.g., blood pressure).

Adaptive Predictive Analytics and Decisioning Engine in Cloud
B. Kaluža
Separating decision-making from application process logic is often beneficial. This project studies how to design adaptive domain models based on Software as a Service (SaaS) paradigm, which can be laveraged in applications on demand.
Commodity12 – COntinuous Multi-parametric and Multi-layered analysis Of DIabetes TYpe 1 & 2
M. Luštrek, V. Mirchevska, B. Cvetković, S. Kozina
COMMODITY12 aims at improving the daily management of diabetes and the prevention/management of its cardiovascular co-morbidities. A multi-layer multi-parametric infrastructure is being developed which monitors the patient's physiological signals and lifestyle, and analyzes patient's data to produce indicators to doctors concerning diabetes and its cardiovascular co-morbidities.
The Ambient Intelligence Group contributes to the project by developing methods for monitoring the patient's lifestyle: recognition of patient's elementary activity (e.g. walking, sitting, lying), estimation of patient's energy expenditure and recognition of his/her main daily activity groups (e.g. work, exercise, rest). The reasoning is based on data obtained from an accelerometer placed on the patient's chest and/or from sensors integrated in a smart phone worn by the user.
view site
ACCUS – Adaptive Cooperative Control in Urban (sub) Systems
B. Kaluža, J. Zupančič, D. Kužnar, E. Dovgan, A. Tavčar, M. Gams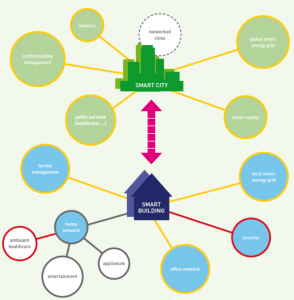 The project is aimed at developing an integration and coordination platform for urban systems to build applications across urban systems, provide adaptive and cooperative control for urban subsystems, and to optimize the combined performance.
view site

OpUS – Truly smart home
T. Šef, A. Tavčar, R. Piltaver, D. Zupančič, T. Tušar, B. Filipič, M. Gams
The project OpUS aims to develop innovative smart house solution that will minimize costs, energy consumption and environmental impact, while maximizing users comfort and security. Using sensing and artificial intelligence the system will learn and adapt to ever-changing habits and needs of the users. Based on the learned knowledge the system will propose changes in smart house automation calculated using multi-objective optimization that will be offered by an intuitive graphical user interface.

view site
XPERIENCE – Robots Bootstrapped through Learning from Experience
R. Piltaver, M. Gams, A. Ude (Department for automation, biocybernetics and robotics)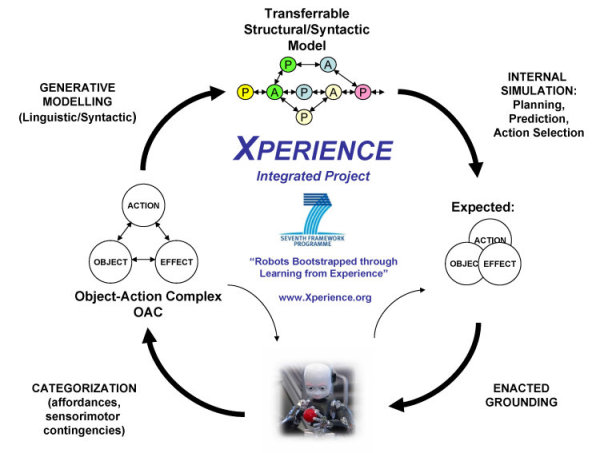 The goal of Xperience project is to study generative mechanisms which are key in increasing bandwidth and speed of cognitive development. Current artificial cognitive systems are limited in this respect as they do not yet make efficient use of such generative mechanisms for the extension of their cognitive properties. We will address this problem by structural bootstrapping, which is a method of building generative models, leveraging existing experience to predict unexplored action effects and to focus the hypothesis space for learning novel concepts. This developmental approach enables rapid generalization and acquisition of new knowledge and skills from little additional training data.
E-doorman
M. Gams, R. Piltaver, D. Marinčič, V. Vidulin, T. Kompara, E. Dovgan, B. Pogorelc, B. Cvetković, S. Kozina, R. Blatnik, D. Kužnar
The aim of the project is to develop a prototype of an electronic doorman, named e-doorman, that offers services similar to a human doorman, improves security and increases user comfort. The intelligent system is embedded into a door with electro-mechanic lock, tablet PC, micro-controller and an array of sensors. The e-doorman uses context-based reasoning and awareness achieved by artificial intelligence methods running on the tablet. The e-doorman system is able to recognize the users, detect unusual entry/exit, break-in attempts, predicts user presence and offers personalized services such as customizable notifications and alarms, information about present residents and state of the door, voice messages, greetings and tips, and remote control using intuitive GUI or virtual assistant that understands natural language.
More information about the project is available
here
. A free Android application developed as a side product of the project is available
here
.